In this section:
Older people are an important group in our community, and despite their diversity there are common qualities they value when interacting with services, including: courtesy and empathy.
Elders and older Aboriginal people
In 2016, nationally just 4% (31,000) of the Indigenous population was aged 65 or over compared with 15% (3.7 million) of the non-Indigenous population (2016, ABS).
Aboriginal people were only recognised as citizens in 1967. Its important customer service staff are aware of the specific cultural needs of Aboriginal peoples and communities, or be able to point them in the right direction. It is important to remember that 1967 is within living memory of many older Aboriginal people.
The historical experience of trauma and discrimination, of systems criminalising, stigmatising, or just being unable to accommodate Aboriginal peoples' needs should be considered in the context of service delivery.
People from Culturally and Linguistically Diverse backgrounds
The first language of between 20% and 30% of older South Australians is not English. The largest groups of older South Australians in the 75+ age group are Italian, Greek, Dutch, German and Polish. In the 55-75 age group, Vietnamese and Chinese language speakers comprise a significant proportion (2016, ABS).
It is important to recognise that independence for some communities is fiercely protected, whereas for others, being closely cared for by family and knowing they can depend on them is a deeply held value.
Language skills may deteriorate as people age, and some older people may be unable to read or write in their first and second languages, due to a lack of educational opportunities.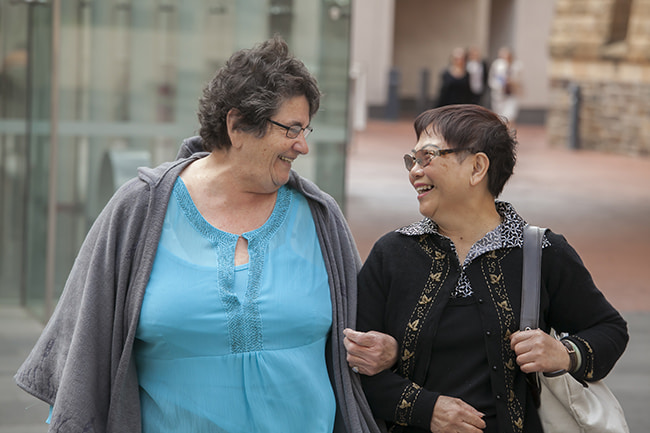 Lesbian Gay Bisexual Transgender and Intersex + community members
While there have always been LGBTI+ members in our community, it is only in recent years that their rights have been recognised. For many, the risk of community and family rejection, criminal charges and loss of employment were of concern during their youth, and for some this remains so.
Historical discrimination and associated trauma needs to be considered in service delivery. As part of a wave of people 'coming out' in Australia, many find that the vulnerability associated with ageing and a new need for services feels unsafe. They lack confidence that services will recognise their rights and treat them with dignity. There are also people who have lived very privately and have not 'come out' - they are part of a more silent generation.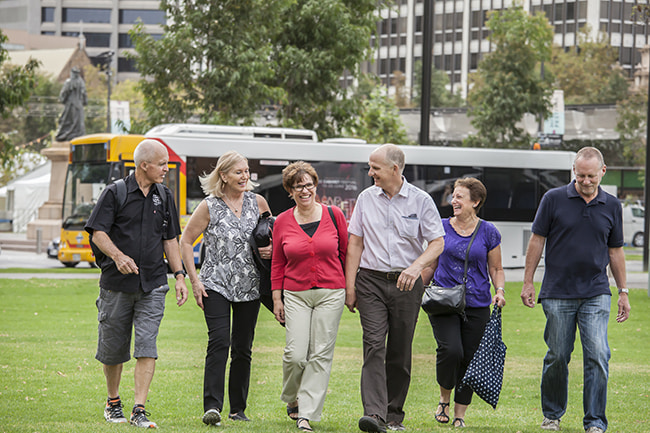 Catering to the diversity of older South Australians
Create a welcoming, inclusive, safe, confidential, culturally appropriate and sensitive environment for all people through your words and the materials you display.
Avoid stereotypes.
Ensure services and service provision are culturally accessible and appropriate; and staff have access to training to support this.
Seek advice from Aboriginal people on the design of outreach and information services that are inviting and inclusive for older Aboriginal people.
Visually reflect the important role of Elders and older Aboriginal people in service design as appropriate.
Where possible and relevant, deliver customer services in local language.
Promote the availability of a free translating and interpreting service.
Everyone has the right to decide whether to disclose information about their gender and sexuality. Be prepared to discuss how this information can be managed sensitively, and work with the client to ensure you have consent when deciding what is recorded on file.
Provide translated fact sheets, video and audio products in a range of languages and locations (e.g. cultural centres and relevant online platforms). Provide information to national SBS radio in-language network and South Australian CALD language programs.
Diversity in action
As a team take the time to understand key terms and concepts and explore what they mean for what, how and why you deliver services to your diverse clients.
Role-play using gender neutral language and demonstrating acceptance such as 'Do you have a partner? What is their name?'
Undertake cultural awareness training.
Create and maintain a database that contains information about services and support networks for older people generally and older Aboriginal, CALD and LGBTI+ people specifically. Refer to www.sa.gov.au/topics/family-and-community/seniors for services.
Get to know who uses your service. The following data sets might be useful:

Number and percentage of age ranges (51-60, 61-70, 71-80, 81-90, 91-100, 100+)
Ethnicity and country of birth, language spoken at home
Special needs, for example the number of people with a disability
Number and percentage of Aboriginal people using the service
Number and percentage of LGBTI+ people using the service
Number and percentage of people satisfied with the service against the metrics of access and dignity broken down by the measures above
Number and percentage of older volunteers and employees.
Tips & tricks
Aim for an employee profile that matches the diversity of the South Australian population.
Use diverse images of healthy and active older people in all communications. Avoid using images/symbols of frail older people, or images of medical or institutional care unless relevant.
Consider outreach into Aboriginal settings with a local cultural adviser.
Work in partnership with Aboriginal controlled organisations to enable the delivery of information and outreach.
Provide regular translated media releases for ethnic newspapers and radio.
Gain buy-in from community champions and leaders who can help you connect with their communities via local language schools, cultural meal delivery services and churches.
Be sensitive to people's privacy about their gender, sexuality or sexual orientation. On forms individuals should be given the option to select Male, Female or Other.
Be prepared to provide extra support where people disclose experiences, including discrimination, abuse or trauma.
Follow a client's lead about how they refer to themselves and others.
Develop procedures for referring LGBTI+ clients to LGBTI+ sensitive services and supports, specialist or mainstream.
Test your knowledge on diversity